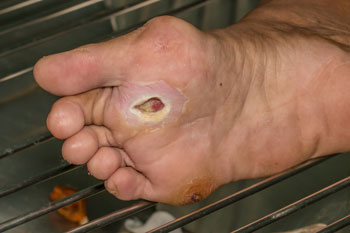 Diabetes is a disorder that impedes the body's natural ability to turn food into energy. Insufficient levels of insulin, or an inability to use it properly, causes too much glucose to stay in the bloodstream. Over time, this can lead to damaged blood vessels, nerves, and organs.
People with diabetes often have nerve damage and poor circulation in the feet. This compromises their ability to detect and heal cuts or other abrasions. Even the smallest cut in a diabetic's foot can turn into a wound that won't heal if it is not spotted and treated promptly. This may develop into a deep ulcer and lead to infection, gangrene and, in worse case scenarios, amputation.
Diabetic Foot Care Tips
Daily foot care is essential for a person with diabetes to maintain healthy feet and avoid serious foot problems from developing. Here are some basic diabetic foot care tips:
Inspect Feet Daily. Examine your feet and toes every day and see a podiatrist if you spot any cuts, blisters, bruises, hot spots or other disturbances in the skin.
Wash/Dry/Moisturize Your Feet Daily. Keep your feet clean and dry, especially between the toes. Moisturize your feet, except between the toes, if they feel rough or dry.
Maintain Your Toenails. Keep your toenails trimmed straight across, but not too short which might lead to an ingrown toenail. Have a podiatrist trim your nails if you cannot do it.
Wear Proper Footwear. Shoes should fit properly, be made of natural materials, and be comfortable with plenty of room in the toe box. Socks should always be worn with shoes, and they should not be tight at the ankles. Diabetic socks can help circulation and keep moisture away from your feet. Never walk barefoot.
Protect Your Feet from Extreme Temperatures. Never use a heating pad or electric blanket on your feet, and protect them from extreme heat and cold.
Never Use Sharp Tools on Your Feet. If you have a corn or callus, do not attempt to remove it yourself. Schedule an appointment with a podiatrist to have them take care of it safely and professionally.
It is very important have your feet inspected and monitored regularly by a podiatrist. Schedule an appointment today to ensure your feet are in good health and to learn how to best maintain the health of your feet.